AFTER my three travel memoirs were published from 2013, readers have been in touch to say they visited the locations featured in the books. Many have made it up to the hillside village of Megali Mantineia, in the Mani, where the first book (Things Can Only Get Feta) was set, and mainly in search of the inimitable goat farmer Foteini.
This unassuming rural woman, whom I met at the very beginning of our odyssey on a village road, seems to have struck a chord with many readers, as she has with me. Perhaps it's her struggle to survive a tough farming life on her own, made harsher still by the Greek economic crisis. It is also, I suspect, her endearing eccentricities, her tendency to wear mismatched layers of clothing and oversized hats, shoes that look like Cornish pasties, and her odd habits, like washing skinned bananas before she eats them.
I recently called one of my favourite friends from the village, the lovely Stavroula (Voula), who lives near Foteini but unlike her, usually answers her village phone. Voula and I hadn't spoken for a while and at first she thought I must be in Greece. She got excited at the prospect of a visit. When I told her I was in England she shouted vibrantly down the phone: "Well, when are you coming back here? We've missed you!"
It's the quality I most love about rural Greeks, the fact that when they warm to you they are inclusive and caring. Their interest in you is like a big, delicious hug, and is irresistible.
I was told that all was well in the village and everyone was surviving the crisis, which was good news. The only recent news I could glean of Foteini, however, was that her beloved old donkey Riko, which I rode on my last odyssey in Greece (from 2014 to 2015), has been pensioned out to pastures sweeter and a new beast has taken his place, as Foteini uses her donkeys for her rural work. Riko was a gentle, stoical creature and he made an appearance in all my travel memoirs.
Foteini, however, continues to attract readers to the village. One American Facebook friend told me she went to the village just to find her and was ecstatic when she did, but was then very put out when Foteini rather stubbornly wouldn't agree to a photo session beside the donkey.
Some readers have told me they have also gone in pursuit of Foteini, waving a copy of Things Can Only Get Feta, which features Foteini and Riko on the cover illustration, which must have amused her, or maybe terrified her perhaps, I can't tell which. Some have bravely angled for a coffee in her ramshackle ktima, farm compound, which I wrote about at length, but no-one has pulled it off yet, I think. I am left amazed at so many sightings of Foteini when I had always thought of her as somewhat shy!
One reader called John recently sent me a long email telling me about his summer visit to Megali Mantineia. He was thrilled to drive along the main village road and find Foteini walking along it with Riko loaded up with wood. John told me that he stopped the car and jumped out, waving Feta, and shouting 'Good morning' in his best learner's Greek.
"She came up to me and put her hand on my shoulder and spoke for about 20 seconds…," he explained, "though I honestly couldn't recognise one Greek word. Then she placed one of her big bronze-like hands on my hand. What an amazing experience. To most people this would probably not mean much, but to me it meant a lot. I asked Foteini if I could take her picture alongside Riko and she said 'yes'. I was totally amazed. It was brilliant. My wife, who hadn't read Feta at that point, said to me, 'This has made your holiday, hasn't it?' And to be honest, it really had."
Recently in East Sussex I was invited to give some talks about my time in Greece at local book groups. I was not surprised to find that it was not Greece in crisis, or the recklessness of Jim and me – and crazy Wallace the dog – going on a mid-life odyssey that piqued their interest so much, but Foteini. They wanted to know all about her: how she lived, what her house was like, and about her outrageous horticultural couture. I passed around photos of her and the village and they were pored over. I imagine the women of peaceful, retiring Sussex have never come across anyone quite like her. Neither had I when we first started our Greek odyssey in 2010 in the remote southern Peloponnese.
Foteini became the most unlikely creative muse for me. From the moment I saw her riding Riko on that village road in 2010, wearing a massive straw hat, her donkey loaded up with 'half a house', she stirred my journalistic interest, initially, with her "promise of authenticity, tinged with craziness" as I wrote in Feta. It was Foteini who talked us into renting the small stone house we'd just viewed in the village. We dithered over it for many reasons. She merely said: "But why wouldn't you take it?" Great journeys can start on such simple promptings as this. It was she who first christened me Margarita, a name that has stuck with me in Greece. But it was also her character that drew me to her, and against the odds, even with my rusty Greek language skills, she and I began the most unusual, and challenging, of friendships, which I described in the books.
Foteini was not the only villager, however, who we came to love during our time in the Mani, which stretched to three years. There were other Greeks who became an indelible part of our lives, especially dark-haired, gregarious Voula, whom I have already mentioned, and her lovely mother, Nikoletta. When the pair sat side by side, they were like "two voluptuous bookends". I wrote about them both in my first two books, where I had called them Eftihia and Pelagia, though sadly, Nikoletta passed away in 2012, which was a great loss to the village. There were also many other characters: Voula's brother Yiorgos, locals who ran the kafeneio and tavernas, the  farmer with the Paul Newman eyes, the ever gracious Leonidas. Yet still people contact me about Foteini (not her real name, by the way).
When I first gave her a copy of the book on a visit in 2014, she grabbed it in her big meaty hands, turning it this way and that, with a look of wonder. Having anything published is an incomparable experience, but watching Foteini gripping her copy of Feta, a book she inspired in so many ways, ranks as one of the most satisfying moments of my life.
*   *   *   *  *
Riding Riko
When I had the mad urge to ride Foteini's donkey Riko along the village road from her ktima, it took a bit of persuasion. Jim also needed a bit of prompting too, as I described in this extract from my third memoir, A Scorpion In The Lemon Tree:
"Foteini stared at me hard. 'You want to ride Riko, on the road? Out there?'
'Yes, just for 10 minutes. You know I won't let anything happen to him.'
She scratched at her face, worrying a curly grey hair hanging from her chin.
'You'd be careful wouldn't you, koritsara mou? (My girl).'
'Yes, of course, I will,' I said, wondering if she felt this nervous when she took him out on the road, or did I just seem like a total rookie.
Jim was watching me with narrowed eyes. 'What's going on? I'm having a Greek breakthrough moment. I'm making out words and I'm not well pleased.'
'I've asked Foteini if I can take Riko along the road for a ride.'
'Oh, no way! You know how people drive in the Mani. A car will hit you both.'
'Shhh! Stop fussing. Can a woman not have a moment of madness in her life?' I said, remembering Zorba the Greek's famous appeal for getting in touch with your inner rebel.
Jim shook his head. 'Margarita, you have not been a woman bereft of mad moments, I seem to recall.'
'I won't be long, I promise.'
'Okay. Margarita mou,' Foteini said at last as she led the donkey through the main gate. She handed me the lead rope, which was all I had for reins, and for a crop, she gave me a thin piece of whittled olive wood.
'Take him,' she said. 'You're always giving me things. This is my gift to you. Enjoy it. And don't be long.'
I brushed my legs over Riko's sides to move him quickly down the road. As I went I could hear Foteini and Jim grumbling together, and Wallace whining. It was like a Greek chorus."
© Marjory McGinn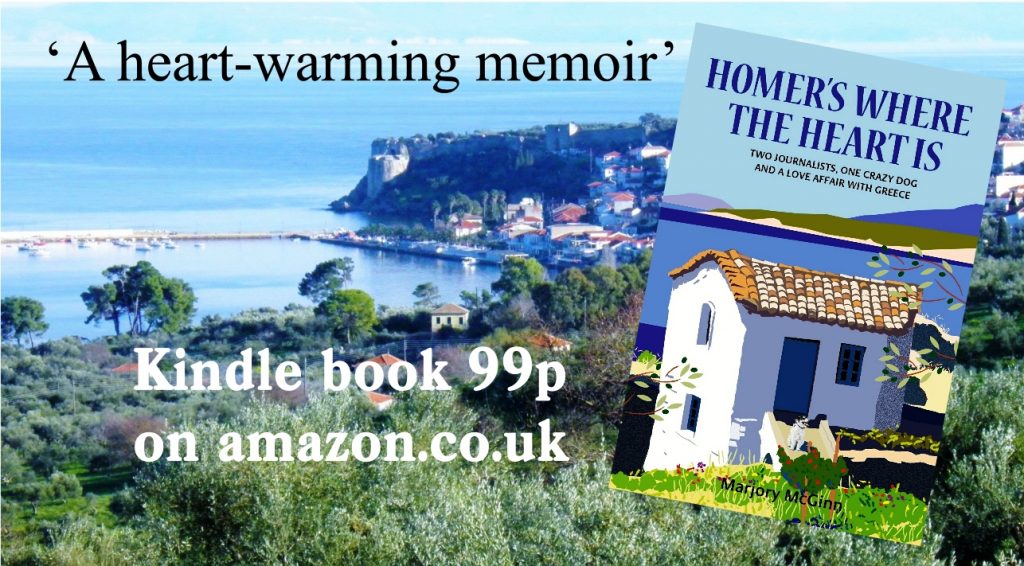 January Promo
My second memoir, Amazon best-seller Homer's Where The Heart Is, which continues the story of our three years in the Mani, is currently on an Amazon Kindle promo for the rest of January at 99p (UK only). To buy, click the link: http://www.amazon.co.uk/dp/B00WEC7YCY
For more information about this book and the two others in the series, including the latest, A Scorpion In The Lemon Tree, go to the books page on the website www.bigfatgreekodyssey.com or the books page on Facebook www.facebook.com/ThingsCanOnlyGetFeta
The latest is on all Amazon sites:
I'm always happy to hear from readers. Please click the comment link on this page. Thanks for calling by.
© All rights reserved. All text and photographs copyright of the authors 2017. No content/text or photographs may be copied from the blog without the prior written permission of the authors. This applies to all posts on the blog