Adventures of two British journalists and their Jack Russell dog in Greece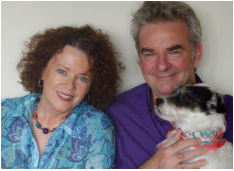 WE are two British journalists - Marjory McGinn and Jim Bruce - who, after many years working in newspapers and charting other people's adventures in life, embarked on one fat risky one of our own.
In the spring of 2010, we left a quiet village in Scotland and relocated to Greece, despite the fact that the country was sliding into economic crisis. Admittedly, the timing wasn't good, but after an Arctic winter and a British recession, what was there to fear from Greece on the edge?
We chose the wild, unspoilt Mani region of the southern Peloponnese, basing ourselves in the hillside village of Megali Mantineia, beneath the Taygetos mountains. In this traditional farming settlement, where nothing much has changed in centuries, we met unforgettable local characters, took part in their way of life and set about living as Greek a life as possible - not always an easy task with Wallace our manic Jack Russell dog in tow.
The results were often hilarious, heartwarming, and always challenging, especially as the economic crisis deepened and the country experienced the biggest social upheaval since the Second World War.
While we planned to stay in Greece for a year, the fat odyssey grew bigger - and ran for almost three years.
We write about many of our adventures on our blog (click 'blog' on the bar at the top of the page), along with posts about other aspects of life in Greece, its culture and people - and occasional posts on other writers, mainly with a Greek theme.

---
---
A new book about Greece

KINDLE VERSION

MARJORY had a non-fiction book published in 2013 about our first year living in the Mani. Called

Things Can Only Get Feta: Two Journalists and Their Crazy Dog Living Through the Greek Crisis

, a new edition is available to buy on Amazon's UK website in Kindle (click on the link below, left) and in paperback (

click here

).

Anne Zouroudi,

author of the acclaimed Greek Detective series of novels set in Greece, described it as

"a book to relax into, a wonderful record of Greece's uniqueness, written with wonderment, admiration and wit, all in equal measure

".

For more information on the book, and where to buy it outside of the UK, please click on the Greek Book tab at the top of this page.
---
Views of the Peloponnese

---
"When you set out on the voyage to Ithaka
Pray that the way be long
Full of adventures and experiences
The Laistrygonians, and the Kyklopes,
Angry Poseidon - don't be afraid of them"

- From Ithaka, by Greek poet Konstantinos Kavafis
---
---
---
© Text and photographs copyright of the authors 2015.
No reproduction of text or images without written permission.